Canvas E-Newsletter Fall 2017
After 25 years, you would think the excitement would wear off, but it doesn't. Each year, we have the opportunity to work with new educators, partners, and most importantly, new students. This year is no different. ArtLink, our flagship program that connects students in the United States with peers across the world via an exchange of art, will be run in 200 classes in 20 countries. More than 5,000 students will have the opportunity to reflect on their own culture and learn something about another culture around the world.
For many of the participating students, this is their first time seeing, much less speaking with, someone from a different country. The experience of exchanging art and connecting via video conference with an international peer is amazing. And it affords students the opportunity to reflect on themselves, their culture, and the experiences of others in ways they might not otherwise get. In doing so, these students become more compassionate, globally aware individuals.
I'm so fortunate to be part of this organization and to have the opportunity to work with my Creative Connections team, and dozens of educators across the globe. I look forward to sharing with you stories, photos, and artwork from the 2017-2018 school year.
Alan Steckler,
Founder & President
Creative Connections Program Director Sees Bright Future for Their Work
Meet Polly Loughran, Creative Connections Program Director. Take a second to learn about Polly's work, the future of ArtLink, and what's on the horizon for Creative Connections over the next 25 years.
What about the Creative Connections' mission is compelling to you?
The students in the ArtLink program learn to define culture and values. This conversation begins with them discovering what these terms means to them.  They need to think about their own culture first, before they go on to learn and understand their peers' culture. This may seem like a simple starting point, but it is very important.  For many students, this is often the first time they begin to answer this question and to reflect on their own culture.
What benefit do students and educators get from participating in Creative Connections' ArtLink program?
Our students become ambassadors for their countries as well as cultural detectives. They learn from students their own age, through artwork and stories about other communities, schools, families, customs and traditions. Educators have the opportunity to experience their students' curiosity ignite as they make new discoveries about the world around them and about their own world through the exchange of artwork and the sharing of stories.
Imagine we speak again 25 years from now. What would you like to see CC programming look like? Where would you like to see it?
I would love for us to remain on top of technologies as they develop. I think virtual reality has very exciting possibilities for our programs. Imagine if we could allow ArtLink students to be really close to their partners, both here in the USA and overseas, through the use of virtual reality.
Any favorite student stories you'd like to share? 
One of my favorite quotes was from a young boy in China, age 9,  talking about the importance of water in his town. He went on to say that he thought, "Water is the soul of the universe." I thought that was remarkable, profound, and so true.
This year sees the full launch of ClassroomLink for ArtLink teachers: The online forum where students in ArtLink classrooms around the world ask questions, share ideas and learn from one another through the exchange of art, ideas and conversations! Take a look at https://classroomlink.org/.
Featured ArtWork: Countries within a Country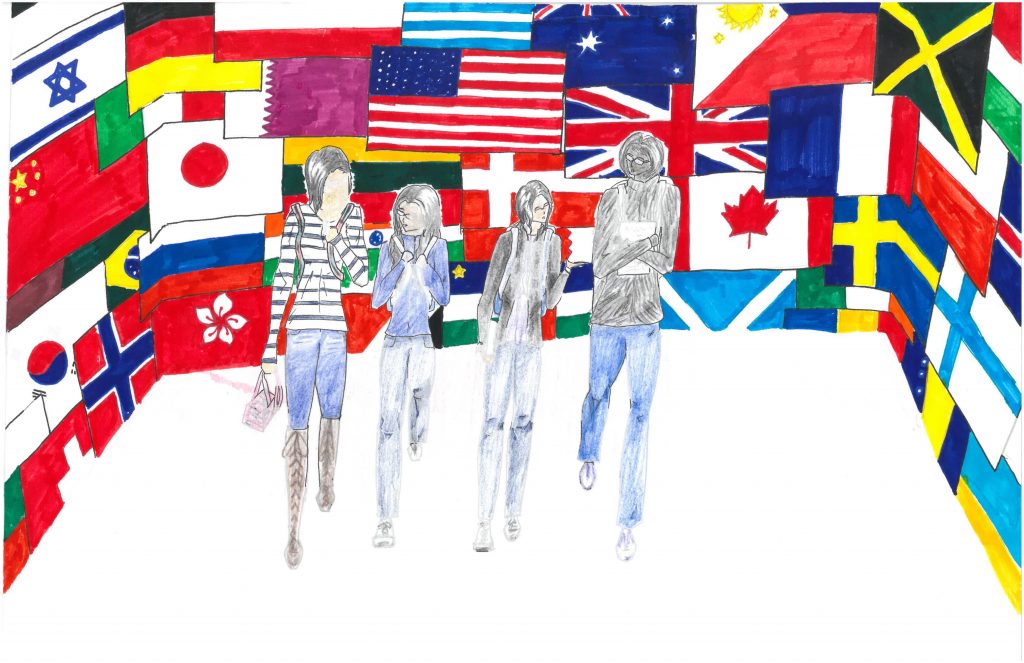 "My picture shows diversity in America. I drew my friends and I running through the school hallways. All the people there are from all over the world. In the background, you see the flags of many nations. Though they may not look the same, they are happily interacting with one another as a community. I am trying to express the beautiful diversity of America. We are no longer segregated and we appreciate the different cultures that enter our nation." -Francesca, age 14, Norwalk, CT
Gabriela's Bridge: Connecting Connecticut and Amazonian Brazil
In 2016, Creative Connections, Stepping Stones Museum for Children, The Maritime Aquarium, and the Museu Paraense Emílio Goeldi in Belém, Brazil, partnered to connect students in Connecticut with students living in a remote Amazonian community. For an entire school year, the students compared and contrasted the cultural and ecological impacts of the watersheds in which they respectively live. Both sets of students participated in our Rainforest ArtLink program. Gabriela, a high school student in Connecticut, writes about her experience.
Source: Catterall, James S. (2009). Doing Well and Doing Good by Art: The Effects of Education in the Visual and Performing Arts on the Achievements and Values of Young Adults. Link.
Introducing Our Newest Board Member
We are delighted to welcome to the Creative Connections' Board, Tania Kelley, Bridgeport's Director of Performing and Visual Arts and the Local Director for Bridgeport's Turnaround Arts program.
We're Almost There! Sponsor a Class Today.
In August, we asked many of you to sponsor an ArtLink classroom for 2017-2018. Thanks to you, we're 80% of the way towards reaching our goal! Our ArtLink sponsors help us bring the program to an underserved school in communities like Norwalk, Bridgeport, Newark, and New York City.
As an ArtLink classroom sponsor, you'll receive:
An invitation to observe your classroom's live videoconference
A high quality reproduction of artwork created by your international classroom
A set of our note cards, designed using student artwork
Special recognition in our annual gala's program book
An invitation to the opening of our upcoming art show
If you're able to sponsor an ArtLink classroom with a gift of $1,000, please connect with Polly Loughran, ArtLink Program Director, today.
To bring ArtLink or RainForest ArtLink to your classroom or after-school program, apply here.
To support our mission: